@sasaworks.com
sculpture
design
music
and others...
services
contact
links


canon
saikoh
7th
flight of imaginations
11th
9th
construction rhyme
goat bone
unicorn
5th
untitled_1
fake
r-way
models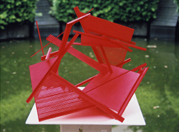 Canon : 2003 September
styrene boards h500 x w500 x d500mm (model)
entry in the 8th KAJIMA Sculpture Contest



As for the form conseption,
There is the shifting construction between flat surfaces (plates) and lines (sticks) and
melting into convexity and concavity in it. This also means what is strong aware of
just where and when we're living. Aimed to express pliability and lighten like
melting into air for looking ahead each other.